Klarth
clean, functional, good looking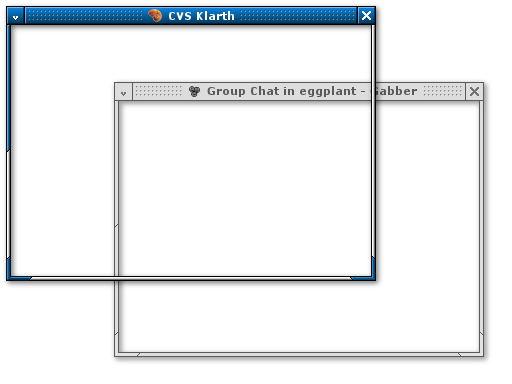 Klarth is probably the first Sawfish theme which actually works. While some people find it rather bland looking, it goes above and beyond most themes in usability and accessibility.
Klarth is also my first sawfish theme. I had implemented another one called Ice before and modified a few others, but I don't really count them. Ice was mostly Seth's code, and entirely Arlo's design. While I started from Crux (everyone has to start somewhere), Klarth has a lot of my own code, and much of John's has been rewritten.
Many people gave me advice and encouragement while I designed and wrote Klarth. Thanks go to them all. I'd especially like to thank Seth, Matthew, John, Jeff, Josh, and the rest of my daily companions from GIMPnet.
Klarth does:
Note: Klarth 2.x requires sawfish to be built against gdk-pixbuf. If your sawfish uses GTK+ 2.x, you should be fine. Otherwise, download Klarth 1.3. Under GNU/Linux, you can check for sure by looking at the output of ldd `which sawfish` - if it mentions Imlib, use 1.3.
If you use Metacity, please download Klarth-MC 0.8.5.
Sawfish Version
Metacity Version
kenneth .:. whitecape : org